Friday, October 12th, 2012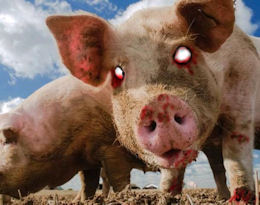 It was totally bound to happen.
People have been enjoying the sweet nectar of pork we all afftectionately refer to as bacon on a overly indulgent basis for a long, long time.
Forget the dead rising up to walk amongst us and gnaw on our fleshy parts.
This story might be the first sign that something much more sinister is taking place on farms around the country…
A pig uprising.
On a small farm in Oregon, police have reportedly found the false teeth and a few remains of farmer 69 year-old Terry Vance Garner in the pen where he keeps his pigs.
According to Garner's old brother, Michael, one of the pigs had apparently bitten Terry last year when he accidentally stepped on a piglet. While no one's sure what exactly took place the horrific and creepy fact is that a bunch of pigs ate a farmer and had no problem with the taste of man-meat.
District Attorney Paul Frasier told local papers and news media:
"For all we know, it was a horrific accident, but it's so doggone weird that we have to look at all possibilities."
[BBC UK]