Tuesday, April 27th, 2010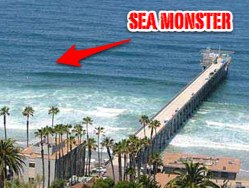 Headline: SEA SERPENT NEARS SHORE DISPORTS IN SURF AT OCEAN PARK STAYS BEYOND RANGE OF RIFLE SHOTS
"The first thing which attracted my attention was when a huge head bobbed up
above the surface of the water," said Mr. Franklyn last night.

"This head was about the size of a keg. A great mouth was cut across the
lower part of it and gleaming teeth could be seen.

"I had with me a powerful pair of spyglasses and I turned them toward the
creature. From where I was standing the eyes appeared to be as large as
base balls and to protrude from the head.

"The creature was about thirty feet long and was striped.

"Running along its spine was a great fin, while two other fins protruded
from the sides. With these fins the serpent lashed the water about it to a
foam as it swam back and forth.

"I could not at first believe that I was seeing anything real and I rubbed
the lenses of my glasses in astonishment. At last I handed them to Mathews
and for several minutes he stood gazing at the creature.
The fine reporting was done by the Los Angeles Herald on September 2, 1907.