Tuesday, January 8th, 2013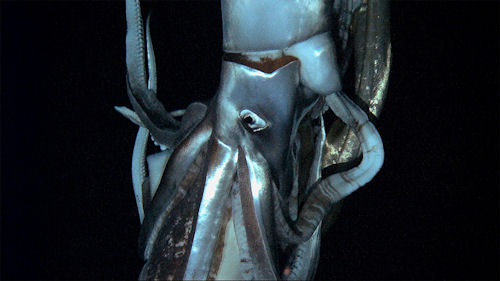 Giant squids are legendary.
They've taken on Moby Dick, Captain Nemo's Nautilus and even a bunch of Goonies.
While giant squids have been captured in the past and alleged parts of them have surfaced here and there…seeing one in the wild has been something of a Holy Grail moment that misty-eyed scientists and cryptozoologists have dreamt about forever.
Everyone can prepare to drop your jaws because there is now video of one of these mysterious monsters going about its business deep in the Pacific Ocean.
A team of three Japanese scientists spent over 400 hours crammed in a 31 foot submersible over the course of 100 missions about 150 miles north of Iwo Jima.
At a depth of 2,066 feet, the lights from the submersible reflected onto the creature's silver skin as it eyeballed the sub curiously before it swam off.
The Discovery Channel's new branch, Curiosity, is keeping the footage secret until the season finale later this month when they'll unveil it to the world for the first time…
Up until then? A lot of "Release the Kraken!" headlines.