Friday, November 14th, 2014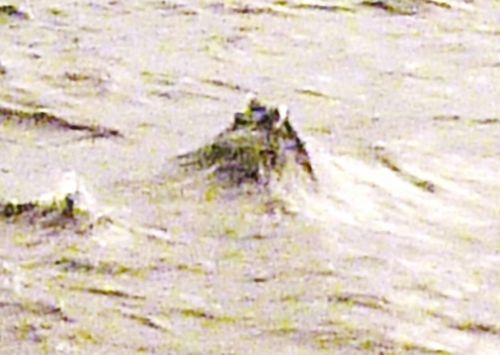 Jonathon Bright, a paranormal investigator who's started adding 'Monster Hunter' to his resume – because who WOULDN'T want 'Monster Hunter' on their resume – has started sharing a photo that might be the famous camera-shy creature that has become legendary.
"Three years ago, I came to Scotland to investigate the Nessie legend and took thousands of photographs. It took me six months to look at them all and I found this one which I showed when I spoke at the Scottish Paranormal Festival in Stirling this week. After I had finished there, I came north to spend more time searching for an answer to the Nessie story. My picture is a talking point. Some people will say it is physical and the monster, others will say it is a trick of the water, others will say it is a hoax."
It would be great if this was in fact the mysterious animal that everyone says lives in the Loch.
It would be even greater if a professional photographer with ninja-like focusing skills and a decent camera would add "Monster Hunter' to their resume.