Tuesday, April 27th, 2010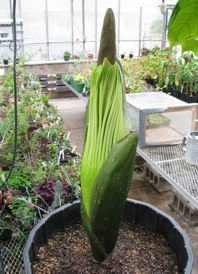 Flower, for my dearest?
A rare behemoth flower — dubbed the "corpse flower" for its rotting-meat smell — is set to bloom at Western Illinois University this week. It's one of a small group of these flowers that have bloomed in cultivation since the 1880s.

As of Monday, the mega flower (one of four in the university's greenhouse), was 44.5 inches (113 centimeters) tall, having grown nearly 4 inches (about 5.7 cm) in 24 hours. In the wild, the plant can grow as big as 20 feet (6 meters) tall and 15 feet (4.5 meters) across.

"The Titans in the WIU Botany Greenhouse will only get about half that in size," said Jeff Hillyer, greenhouse gardner at WIU.
This one might be kind of redundant to leave on a grave stone…