Posted by
Tony
on June 8th, 2012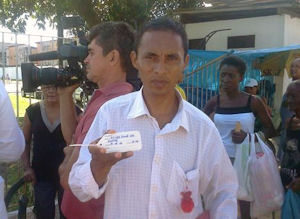 No really…how many of you have been shopping the tool sections of your local hardware stores or hitting up your local big box store for supplies to combat the impending undead parade across the face of the earth?
We're right there with you.
Just when you thought random face-eating attacks were creepy, a report comes in from Belem, Brazil about a deceased toddler that may have come back to life.
Two-year-old Kelvin Santos had been declared dead at Aberlardo Santos Hospital after pneumonia took him.
An open casket funeral was arranged so that family members could pay their last respects. About an hour before the service Kelvin, sat up, asked his father for a drink of water, then just as quickly as he sat up, he laid back down and went back to being…deceased?
Kelvin's father Antonio Santos is demanding answers from the hospital and believes that malpractice is to blame for the strange incident.
Twitter this