Wednesday, July 25th, 2012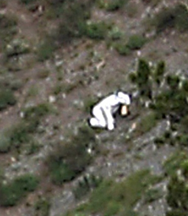 The great Goat Man hunt is over. Authorities have heard from the man in question and are satisfied at his explanation:
A mysterious man spotted earlier this month dressed in a goat suit on a Utah mountain has been identified as a Southern California hunter preparing for an archery hunt of mountain goats.

Phil Douglass of the Utah Division of Wildlife Resources told the Standard-Examiner Monday the elusive man is a 57-year-old hunter from Southern California.
Apparently he was just testing his new suit to see how well he could blend in with the goats.
Or, that's what we are being told.
This could be the beginning of Utah law enforcement relying on this unidentified vigilante to do the job they can't. He's the goat they deserve, but not the one they need right now. We'll chase him because he can take it. He's a silent guardian, a watchful protector…
A white goat.
[MSNBC]