Tuesday, August 11th, 2009
Weird Things Culture Researcher Matt Finaly takes a weekly look into the social, political and cultural climates of a populace at the time it was affected by a legendary paranormal, extraterrestrial or cryptid phenomenon. It appears on Tuesdays…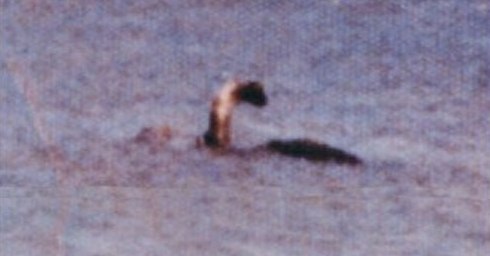 A lake isn't a lake without a lake monster. Or, so it would seem. With more than 250 serpentine leviathans of varying size and ferocity trolling the dark reefs and hidden inlets of lakes worldwide, these arcane monstrosities are to inland bodies of standing water what Zagat ratings are to classy restaurants, providing immediate validation by way of an instantly identifiable symbol – a dark, long-necked silhouette asserting a mysterious vigilance in the dying warmth of deep orange light squeezed from a setting sun.
Sometimes more mascots than monsters, these aquatic behemoths are often as much unwitting chamber of commerce employees as they are enduring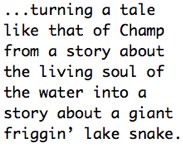 mysteries of cryptozoology. While Nessie, the stalwart cover girl of lake monster commercialization, may be the most ubiquitous of these creatures, North America has its own heavy-weight lacusine cryptid, with an equally cloying nickname – Champ.
For a supposed Mezozoic-era reptile hidden deep within the black, icy craw of Lake Champlain, Champ has become a surprisingly active community member in the various cities and towns that hug the shores surrounding the 125-mile-long body of water. His solemn reptilian visage adorns a variety of commercial signage, his wooden doppelganger smiles confidently from the courthouse lawn in Port Henry, New York, and his mere existence is lauded via fly balls and grounders by the Vermont Lake Monsters, Vermont's only minor league baseball affiliate. Since the first reported sighting in the early 1870s, everyone from research scientists to P.T. Barnum have felt the scaly allure of this North American legend. As the world amasses an ever-growing role call of lake monsters to shout from dockside tea-shirt stands and minor league baseball stadiums, it seems appropriate to take one such monster, America's own Champ, and look at the lake, legends and lives that, in just the right light and from enough of a distance, almost look like a giant, aquatic serpent posed stoically against the horizon.