Tuesday, January 8th, 2013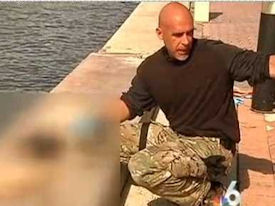 We've all heard the expression 'something old is new again'. Well that, and the fact that Florida was apparently created on top of an ancient Hell Mouth of some sort, brings this creepy discovery coming out of Miami.
Residents of a fancy-shmancy resort on the waters of Biscayne Bay in South Beach had been smelling something 'unique' in their building.
It wasn't the uniquely fancy-shmancy food.
Three chickens and one goat washed up together on the sidewalk behind the resort. They were all missing one important thing…their heads.
After phone calls were made to the police regarding the animals, a spokesman for the department said that they weren't going to get involved because "the dead animals didn't appear to be sacrificed as a threat directed against any particular individual." So instead? They just let them rot there for a couple of days.
Eventually Richard Couto, an investigator of the Animal Recovery Mission, stated that the animals seem to have been killed as part of a Santeria or Palo Mayombe ritual. Everyone involved, with the exception of those living in the nearby luxury condos, simply shrugged the event off as something that happens all the time because of the mixture of Afro-Caribbean cultures in the area. Animal sacrifice for religious purposes is also not against the law and is protected under first amendment rights.
Where the animals actually came from is still a mystery. Other reports of animal sacrifices in the area have been quietly popping up in the local news but those too are being ignored as just something that happens in the area.
Is there something else going on in South Florida?
We'll be watching…but we'll be locking up our pets…you know…just in case.