Posted by
Tony
on June 5th, 2012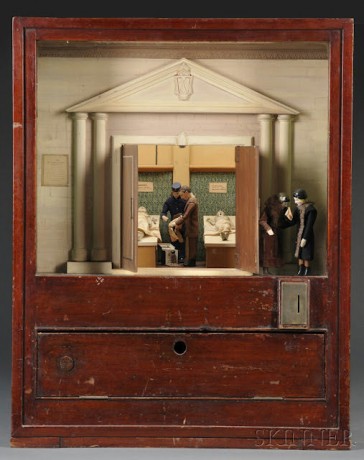 Automata have been around for a couple of centuries now. Most of the time they're enjoyably amazing pieces of craftsmanship that cause people to smile.
There's been a chess-playing automata, an acrobatic automata that does a trapeze act and even animals have been featured as these intricate works of what seems like robotic art.
Then there's this.
A coin operated bank automata that features a scene guaranteed to wipe whatever smile you had after watching that whimsical tail-wagging, ball-carrying puppy right off your face.
The auction site has the following description for this fun piece of whimsy:
"St. Dennistoun Mortuary" Coin-Operated Automaton, attributed to Leonard Lee, c. 1900, the mahogany cabinet and glazed viewing area displays a Greek Revival mortuary building with double doors and grieving mourners out front, when a coin is inserted, doors open and the room is lighted revealing four morticians and four poor souls on embalming tables, the morticians move as if busily at work on their grisly task and mourners standing outside bob their heads as if sobbing in grief…"
Expected to sell for between $4.000-$6,000, this uniquely strange piece of work blew the lid off that price and ended up as a fun conversation piece for the sum of $13,035!
Twitter this