Thursday, July 9th, 2009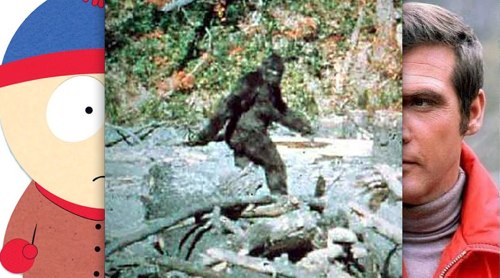 In this column, we look at two pop-cultural interpretations of ubiquitous Weird legends as portrayed by two narrative television programs… like how Sam Malone on Cheers and Al Swearengen on Deadwood both manipulated the politics of an entire town from behind the counter of a bar. But with monsters. Enjoy.
This week:
"Bigfoot is blurry."
South Park, Episode 1×03, "Volcano"
The Six Million Dollar Man, Episodes 3×16 and 3×17, "The Secret of Bigfoot"
Bigfoot has always occupied a unique place in the pantheon of American cryptids. And I use "American" very deliberately here to suggest that, while sasquatches and yetis and abominable snowmen are found (and feared) the world over, Bigfoot is a specifically American cultural institution. Even the name "Bigfoot," a simple, almost cute, descriptive moniker, suggests what ultimately seems to be the larger mystery that Americans wrestle with when they ponder the elusive, hirsute giant. It isn't "Is he fact or fiction?," but rather "Is he friend or foe?"
Both South Park and The Six Million Dollar man mused upon this question. One employed the query in revealing larger truths about pop culture's grip on folklore. The other simply provided an answer… a weird, ridiculous answer.