Friday, July 6th, 2012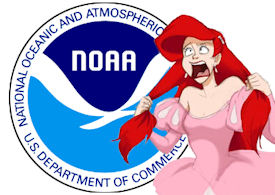 You can all rest easy now.
NOAA, a government body that apparently has a lot of time on their hands, have recently laid to rest the idea that mermaids might actually exist.
According to NOAA? They don't.
Thanks, NOAA…you've single-handedly just slapped several million little girls who adorably talk-sing 'Part of Your World' and dress up like Ariel right in their precious, red-wigged face and told them to "Knock it OFF!"
After a recent faux documentary called "Mermaids: The Body Found" aired on Animal Planet, NOAA decided it was time to put this silliness to rest once and for all.
"Mermaids: The Body Found" took small truths and sort of expanded upon them keeping the show just within the bounds of plausibility. Much like the "Alien Autopsy: Fact or Fiction" 'documentary' that aired on television in the 90s or going even further back to the original mayhem-causing broadcast of "War of the Worlds", "The Body Found" sauntered up to the wall where science fiction and science fact eyeball one another and occasionally hi-five each other.
The mix of vague fact and more exciting fiction was just enough of a mix to get NOAA's imagination police flustered enough to step in and settle this whole thing once and for all.
In a post titled "No Evidence of Aquatic Humanoids Has Ever Been Found," NOAA states that:
The belief in mermaids may have arisen at the very dawn of our species. Magical female figures first appear in cave paintings in the late Paleolithic (Stone Age) period some 30,000 years ago, when modern humans gained dominion over the land and, presumably, began to sail the seas. Half-human creatures, called chimeras, also abound in mythology — in addition to mermaids, there were wise centaurs, wild satyrs, and frightful minotaurs, to name but a few. But are mermaids real? No evidence of aquatic humanoids has ever been found.
NOAA has also stepped up to swing a bat at the Lost City of Atlantis and the Bermuda Triangle.
NOAA's statement about 'No evidence of aquatic humanoids has ever been found" shows that they're oblivious to our shark-people ancestors we posted about on this very blog.
Up next for NOAA? Proving that the Creature from the Black Lagoon was a dude in a rubber suit and that Davy Jones really doesn't have a locker.
Release the Kraken! Oh…wait…