Tuesday, April 20th, 2010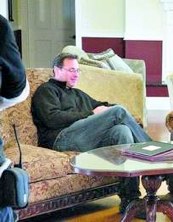 Bob Saget is shooting a new show for A&E entitled Strange Days where he hunts down the strangest elements of our society, including Bigfoot, which was the episode he was shooting last week.
"Bob Saget's Strange Days" delves into weird, wild stuff: biker gangs, partying Amish teenagers, mail-order brides, a survivalist cult — and, of course, Bigfoot.

So out Saget came to the North Olympic Peninsula to peek at the West End woods and interview John Bindernagel, author of two books about the hairy creature supposedly living in the deep forest.

And since Saget wanted a nice spot to meet Bindernagel — who came down from Courtenay, British Columbia — he and his entourage found the George Washington Inn, a replica of the first U.S. president's estate in Mount Vernon, Va.