Thursday, July 23rd, 2015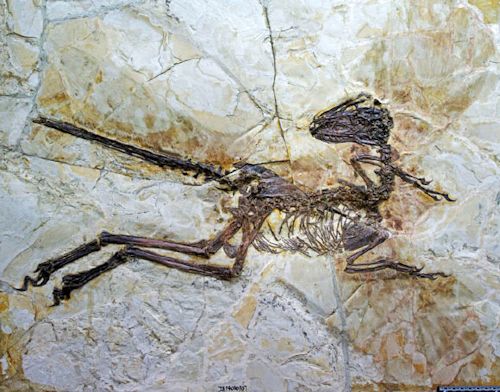 Liaoning Province in China is known for the substantial amount of dinosaur fossils that've turned up in the dirt there. Over the years everything from insects to fish to plants have been discovered in such detail that even skin textures have been left behind in the rock.
Now it appears that a new feathered dinosaur that is cousin to the Velociraptor can be added to the long list of discoveries there.
The new dinosaur with a ridiculous name to try and pronounce, Zhenyuanlong suni, stood at about 5 feet tall, had wings too short to allow them to fly and some of the most complex feathers seen on a dinosaur up to this point. The feathers' complexity is clearly visible on the rock that the near-complete skeleton has been found in and resemble the feathers of today's eagles.
Professor Junchang Lü from the Chinese Academy of Geological Sciences' Institute of Geology:
"The first feathered dinosaurs were found here and now our discovery of Zhenyuanlong suni indicates that there is an even higher diversity of feathered dinosaurs than we thought. It's amazing that new feathered dinosaurs are still being found."
It's also hugely terrifying to think of these semi-flying, feathered 5 foot dinosaurs tracking you down to feed their young.