Thursday, July 9th, 2015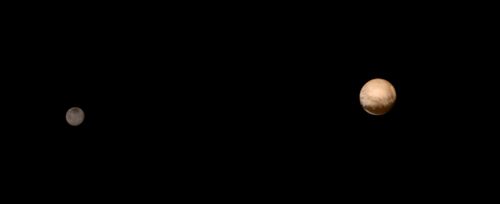 Back in 2006 the New Horizon space probe left Earth on mission to visit Pluto.
On July 14th of this year, New Horizon will finally reach its destination and give us a closer look at the piece of rock that was once on the a-list of planets in our neighborhood.
In January New Horizon was brought out of hibernation in preparation for its approach to Pluto.
As photos began coming back showing Pluto in more detail than we've ever seen, scientists were a little bummed they weren't seeing much of Pluto's little moon-buddy, Charon. That all changed as scientists merged photos from the RALPH and LORRI cameras onboard the probe.
Suddenly they could plainly see the photobombing moon of Charon in the background of the Pluto photos they already had.
New Horizon's mission includes mapping Pluto (and possibly Charon) and gathering as much info as possible about Pluto. Once it heads away from Pluto it will try to collect information about any object it can come across in the Kuiper Belt before moving into who-knows-where.
[WIRED]