Monday, October 21st, 2013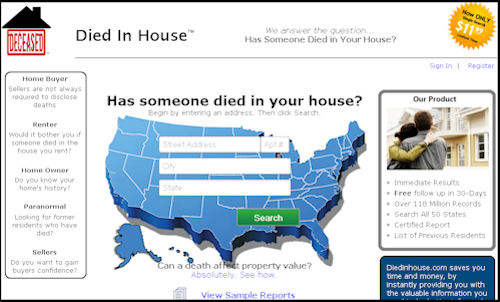 It's that time of year again, kids. People start telling ghost stories about "someone who died in this house a long time ago."
Now there's a site where you can call them out for lying or freak yourself out a whole lot more when you realize that they're not joking about someone dying in the place where you're holding what was supposed to be a fun Halloween seance.
DiedInHouse.com is a site that can tell you whether or not someone died in a particular home. In some states it's not required to reveal whether someone died in the home you're about to purchase or rent.
Charging $11.99 per search is a little pricey for most but for those people who keep hearing footsteps in the middle of the night or keep wondering why the cabinets in the kitchen open and close by themselves? That might be the best twelve bucks they ever spent.
[CNET]