Monday, October 21st, 2013
In Las Vegas there is a restaurant that doesn't hold back the honesty or jerk you around with silly calorie-counting menus that seem to be popping up everywhere. This particular restaurant plasters their slogan 'Food Worth Dying For' right up in the front window along with a warning that lets you know that you might possibly suffer a heart attack.
How appropriate for a place called 'The Heart Attack Grill'.
Featuring an over the top, cartoonish hospital theme, the Heart Attack Grill doesn't pull any punches when it comes to letting you know that their food could kill you. Jolt Cola is the only soda served in the place and the menu reads like a health advocate's hell with items like a Quadruple Bypass Burger and fried-in-lard Flatliner Fries.
'Doctor' Jon Basso, the guy behind this whole heart attack-inducing establishment, is like some kind of comic book nemesis to those fighting this country's health issues (seriously…here's some artwork from his DeviantArt account). His lair is a faux hospital-themed restaurant where 'nurses' are ramped up fantasy versions of the real thing and the patrons wear hospital gowns. Even Basso himself isn't a real doctor but plays one in his restaurant. People are even rolled out in a wheelchair to their cars on occasion. And if you don't finish a burger in the Heart Attack Grill? You step up to a contraption where you face a small webcam, your hands reach up on either side of your head to grab a pair of handles, one of the establishment's half-dressed nurses grabs a paddle, walks up behind you and then proceeds to give you a spanking which is then posted online for the world to witness.
And if you're wondering if anyone's ever actually had a heart attack eating at the grill? Yes. Four of them. And one of those four won't be eating there…or anywhere else ever again. In fact, Basso has some of that particular patron's cremated remains in a bag.
Recently a tiny little lady in one of the staple nurse uniforms was added to the staff. She rides around inside the restaurant in a tiny ambulance only adding to the vision of 'Doctor' Jon Basso as the ringleader in one of the weirdest circuses about personal choice the world's ever seen.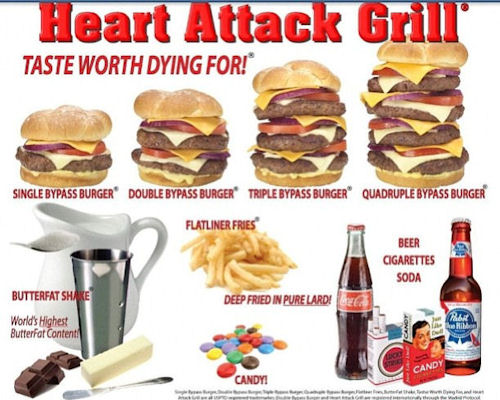 [ABC News]