Saturday, July 7th, 2012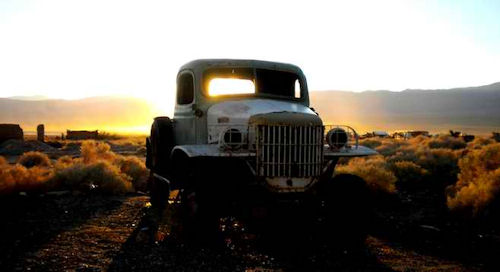 Sitting out in the middle of Death Valley is a grim reminder of one of the most horrific and notable murder stories in American history.
Recently journalist Amy Beddows rolled through Death Valley in search of that grisly reminder.
Arriving in Badwater Basin, the lowest point in North America and one of the most desolate places in the world, Beddows headed down the Trona 178 highway to the dirt road which leads to the isolated town of Ballarat.
Beddows drove past the sign at the entrance to the now-dead mining town which reads, "You learn nothing by sitting in the car." Her and her fellow traveler got out to explore Ballarat to find the macabre object they were looking for.
The only other person in town? The owner/operator of the "Outpost" camping store which sits quietly in the middle of this long forgotten dot in the middle of nowhere.
He happily pointed out what Beddows was looking for…
A truck…but not just any truck…
Bobby Beausoleil's truck that the Manson family used both in Los Angeles and to drive out to the Barker Ranch where Manson was caught by the Inyo County Sheriff Department and the California Highway Patrol for vandalism within the Death Valley National Park before they realized who they'd caught.
And there it sat in the fading sunset with the word 'WAR' vaguely remaining hand-painted on the door and the interior covered in spray-painted silver stars, a recurring image in the Manson family's disturbing legacy.
Beddows and her companion left town before the notorious sandstorms began blowing into the basin later that evening leaving behind an old rusted truck.
A truck that sits alone on a small hill in the middle of nowhere where it's held its ground for almost half a century.
A truck that holds a darkly grim history should the curious care to explore the speck of a town in the middle of nowhere.