Tuesday, July 17th, 2012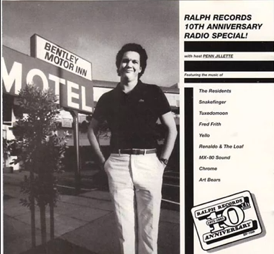 To celebrate the 10th anniversary of Ralph Records, Penn Jillette took part in a very odd tribute. He agreed to be locked into the Bently Motor Inn in San Francisco and do nothing but listen to the entire decade's worth of Ralph Records discography.
At 8:00 AM on Monday, March 1, Mr. Jillette entered Room 312 of the Bentley Motor Inn at 465 Grove Street (directly across the steet from the, then, Ralph Headquarters) in San Francisco. The door was locked behind him.

Mr. Jillette was to spend the next six days alone in this room. Each day he received a package of records from Ralph. His job was to listen and comment on these recordings.
60 hours of his commentary on the music was whittled down into a radio special which has now partly been uploaded to YouTube.
Here is Day One…
Click AFTER THE JUMP for the rest of the week… (more…)