Posted by
Tony
on June 21st, 2012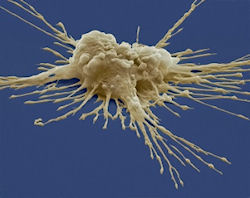 Something straight out of a science fiction story is becoming a reality in Yokohama, Japan right now: regenerative organs.
There have been tons of attempts, theories and even a small handful of groundbreaking work concerning regenerating new organs, veins, tissue and even blood using stem cell research. It often sounds almost fantastical at times considering the small amount of work that's actually been produced from the field.
Japanese researchers revealed at the International Society for Stem Cell Research last week that they've reproduced a liver-like tissue in a dish.
Their findings have yet to be published but there is a lot of buzz taking place on the internet this morning about this news release.
Our imaginations and the media will probably go crazy talking about the possibilities of this breakthrough. The reality is that this is about as crude an example of a regenerated as one could possibly get. It's still got a long way to.
Using various cell types and what reads like a hipper, less late-night grave-diggy version of Frankenstein, researchers have basically taken human skin cells back to an 'embryonic state', reprogrammed them, let them begin to grow, added various other cells to the process and created a very primitive 'liver bud', a very early stage of liver development.
As primitive as this 'liver' is right now, the tissue does contain blood vessels that worked when the tissue was transplanted under the skin of a mouse.
There's no doubt where this amazing technology is headed and that its goal of recreating human organs is going to happen given time.
And, George Daly, the director of the stem-cell transplantation program at the Boston Children's Hospital in Massachusetts in charge of last week's session, said:
"It blew my mind."
[Nature]
Twitter this