Posted by
Justin
on July 11th, 2009
Previously, this week, on Weird Things.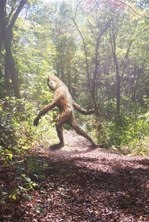 • A few tips for the novice Bigfoot hunter.
• Could the Son of Sam, a UFO investigating Air Force base and the birth of popular science fiction have helped create the Dover Demon?
• Michael Jackson may be dead, but his ghost is on a world tour.
• What happens, when myriad ghosts, have chosen to haunt a house, stop beings polite and start getting real? They say some really kooky stuff, that's what.
• Rhode Island has never had a Bigfoot sighting, but that might be about to change.
Enjoy the weekend, as always, send weird photos, stories, sounds and happenings to JustinRobertYoung@Gmail.
Twitter this