Posted by
Justin
on July 8th, 2009
Bart Cutino works with the Bigfoot Field Researcher Organization as well as the Alliance of Independent Bigfoot Researchers. He made headlines with his claim that he came face to face with the creature during one hunt.
He offers you, the amateur hunter, a few hints on how to make your Bigfoot observation expeditions more fruitful.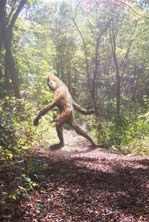 • Know The Land Bart suggests learning the topography of the area you want to stake out in the light, before darkness falls. This not is not only a safety precaution but also allows you to mark the most likely traffic areas so you can focus your attention better.
• Don't Chase Sightings Find the spots where a predator of Bigfoot's size would feed instead of place where it may have been spotted.
• Tummy Rumbling It's probably a good idea to eat a big meal before you leave so hunger doesn't distract you. Just in case, Bart likes to bring along protein bars from Trader Joe's and Muscle Milk.
• Call Of The Wild No matter what anyone tells you, Bart reinforces, there is no recorded sound file of a Bigfoot call. However, there are clips of unidentified animals that many researches use to provoke a response. Among them, the 1994 "Ohio Howl," and the "Tahoe Scream." Even regular deer and doe grunts have gotten responses for Bart.
• The Scent Of Fear Masking your scent is crucial. Elevating yourself helps, so do sprays or if you want to give yourself a natural musk simply forgo showering for a few days before heading out.
• Don't Stop The Party Bigfoot are curious creatures, so part of your expetition wants to set up camp and light a fire, let them. Seperate yourself from the group and "be in the range of where the most likely curious entry would be."
• Find The Highway Most apex predators hunt on the ridge lines and walk the same paths over and over again. If you can find these trails, you are getting closer.
Twitter this