Posted by
Justin
on November 19th, 2012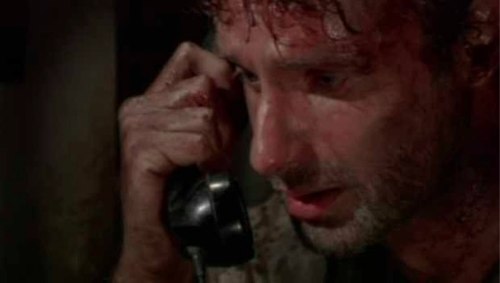 Michonne and Merle get all Hunger Games, but who is Katniss and who is the weird wolf monsters from the end? Andrea continues to have the absolute worst taste in men… or does she. And Rick is on the edge of the madness.
The edge! The edge! The edge!
The return of the Walking Dissection happens just after the jump.I hate the phone gimmick The worst kind of storytelling ends with "but it was all a dream". In fact, you can make the argument that the second you cease telling a real world story with stakes and consequences, you're communicating to your audience that it's fine to check out. After all, if the storyteller can't be bothered to stay in the real world, why should the viewer.
Granted, spending an entire episode talking on a broken phone with dead people isn't exactly a dream sequence but it's close enough. Thankfully we got the reveal at the end and therefore only have to suffer it as a bottle episode and not an annoying subplot DRAMATICALLY (I am raising my arms in a very dramatic pose after writing that word) revealed in the fall finale.
There is a contingent of viewers of this show that just want elements they've known from the source material slapped on screen no matter how disjointed or stupid it is. For those people, I'll assume the phone gimmick this episode pleased them greatly.
The problem is that IN THE COMIC (please drink for every time anyone writes this, not just in this column but on any internet discussion of TWD) the phone trope comes as a moment of very fractured calm. In a valley of our story when the world of our characters has been blown apart. There is plenty of grief here for Rick but there's also plenty for him to do. We can see him going mad while interacting with others.
His private freak out minimizes drama by quarantining the unreliability of THE most reliable character in a subplot that is fairly boring until we get an anti-climactic reveal.
At the end of the ep, Rick emerges from his Kook Cave and slinks toward his new born baby as if to say "Sorry I wasted this episode, ya'll."
Is the Governor really a bad guy? We know The Governor kills people himself, and gives murder orders pretty liberally and has a man cave decorated with the heads of actual men. But other than that, how bad of a guy is he?
At times he even feels a little "aw shucks" gullible. His downright a-"d'aw"-able courtship of Andrea muddies the waters on who he is and what he ultimately wants. And not in a good way.
An ambiguous character has goals, and then he/she surprises us in what they will or will not do to achieve them. But seriously, I have no earthly idea what The Governor wants.
Is he protecting Woodbury? Does he want to run the community as a cult leader, "pollinating" his way through every available woman? Is his true passion staging his zombie bum fights? AND BY THE WAY how does Andrea end last episode prancing away like a startled dandy from the staged zombie fight and begins this episode by again turning up her nose but then ends things admitting that she's addicted to the thrill of killing zombies and sleeping with the Vince MacMahon of fake zombie fights.
By the way, I'd like The Governor better if he entered every room to Vince MacMahon's entrance music.
Here is my question: does Woodbury want new residents?
Are they trying to repopulate the Earth? Or are they trying to survive and understand they can only feed so many mouths? How often do they come across survivors? How many stay?
One more question: why does the Governor sound like Liam Neeson?
Is it just because dialect coaches can only teach one American accent?
What's the motivation for Merle? I've been very vocal about how awesome I think the character of Merle could be. At this point, it looks like they are splitting some of the the more reprehensible tendencies of the Governor IN THE COMICS into Daryl's lost brother. But really, I have no beat on who he is this season. He seems like a man who "found jesus" in the metaphorical sense. The man who once had to be handcuffed to a roof because he couldn't be a team player is now leading a squad into the woods as the old grizzled veteran.
Gone is also any trace of the drug use that seemed to define him when we knew him before.
Maybe he's just a simple, dumb henchmen and I am reading way to much into his character because I like Michael Rooker and think he's the best actor on the show. BTW, when can we get that man a monologue? He made a career crushing intense monologues and meanwhile it's DARYL that gets to tell the gruesome story of how their mother died. Boooooo.
Still though, the idea that we believe Merle to be the sadistic element of Woodbury while the Governor keeps an arms length to it all is an interesting dynamic. BUT we already say the Gov murder military men in cold blood, so that's kind of out.
Carol isn't dead and no one cares either way Seriously. Who cared? Did you?
Connecting the dots As has often been the case with this series we find ourselves at a point in our story where we know a collision is coming and we are just waiting for it to happen.
It's just hard to get excited about where the plot is headed when our master villain seems so… clumsy.
Twitter this