Posted by
Justin
on October 25th, 2012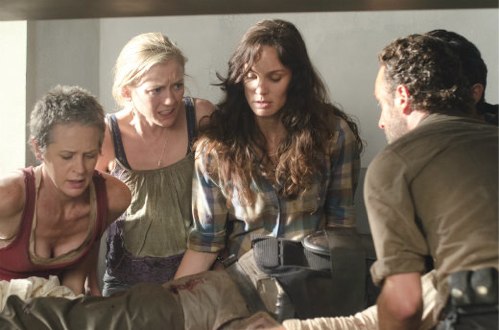 The overarching story of The Walking Dead in any form or function in the loss of humanity amongst the living while the dead roam the Earth. In the same way that Battlestar Galactica could be set on a submarine and still be awesome, TWD could be about a global political uprising or a world where all the electricity stopped running. Okay, maybe not the second one.
At it's best, we watch the characters evolve and measure ourselves against their actions. If they succeed, we find redemption in even their darkest moments. At the very least, we understand why they would do something even if we never would.
This episode was one where we continue to understand how this experience has taken a toll on our survivors. After a long Winter, the seeds sown have born strange fruit.
Read more AFTER THE JUMP…
Mo Momentum Beyond any of the developments in the story, I was most happy with the speed in which we moved through it. Specifically in two areas. First, Herschel's injury did not turn into a five episode arc (a al Carl's coma) and instead was resolved after the television-requisite bedside confession.
Second, the stand off with the prison cafeteria contingent headed by Razor Ramon ended by way of a blade Razor's head. Again, beyond thrilled to see this not take seven episodes. There is no doubt in my mind that in season two this would have taken 14 episodes and countless brow furrowings between Rick, Lori and the ghost of Dale who would appear like Obi Wan only to make the Dale face.
Here is my point more specifically: we know Herschel isn't going to die and once Rick confesses to Lori that killing the Cafeteria Gang is an option we wouldn't be surprised if that happens either. Therefore, why put an unsurprising ending between the beginning of our story and myriad pointless conversations that tediously inch our way to the inevitable?
These stories were as interesting as the time they were given, which is to say: one episode. But that's not bad. They held my interest for the hour and in a season with some BIG issues to deal with, that's fine.
Whoa, Mute Ricky I was trying to put my finger on why Andrew Lincoln's portrayal of Rick has not bothered me this season, as it did last year. After talking with the incomparable Scott Johnson, it hit me.
He's not talking as much.
With the character increasingly withdrawn, his dialogue has followed suit. No overwrought, walkie talkie monologues. No DRAMATIC conversations with Dale or Shane highlighting his inconsistent American accent.
Less is more for Lincoln's Grimes. His quiet nature lead to a more dramatic explosion when violence become the only option.
To Come… Listen, I liked this episode, but to be honest I liked it best as a place setter for what's to come. Not only did we get a ham-fisted hint that there are sentient beings in the woods. But the word is out that next week we see the return of Merle Dixon and with him, hopefully the Governor follows quickly behind.
My excitement for this just may eclipse my burning hatred for last season.
Maybe…
Twitter this