Posted by
Tony
on July 20th, 2012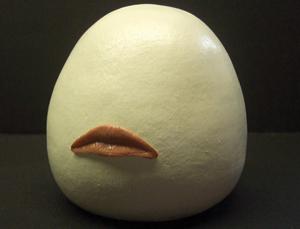 Prepare for a new level of weird, people.
A while back we reported on a kind of pillow 'roboty' thing that would cuddle with you and that your siginificant other could be channeled through. Creepy and a little awkward, right?
That's like a mild '2' on a scale of 1-10.
THIS? This just pegged that scale into oblivion.
Unveiled in the UK at the annual Designing Interactive Systems conference, the egg-like device has been dubbed Kissenger. Hidden inside Kissenger's eyeless, Humpty-Dumpty-like body is a pair of pressure-sensitive soft plastic lips that peek through a smooth plastic casing about the size of an Easter egg.
The lips contain pressure sensors and actuators. When you kiss them, the shape changes you create are transmitted in real time over the net to a receiving Kissenger. There, the actuators reproduce the mirror image of the pressure patterns you created– magically transmitting your smacker to your partner.

"People have found it a very positive way to improve intimacy in communications with their partners when they are apart," claims Hooman Samani of Singapore-based Lovotics, which developed the device.

The device is a prototype and Samani says it will not be commercialised until "all the ethical and technical considerations are covered". He adds: "I am not interested in sexual uses for it."
Remember that part where he stated, "I am not interested in sexual uses for it"? He's obviously been locked away in his lab for far too long and has forgotten what people are like.
While this isn't the first weird thing used to kiss across a distance (that award goes to a device that's more like tonguing a slurpee straw attached to a speaker box with someone equally lonely as yourself on the other end), it IS the first to accurately record your partners kiss onto a pair of lips so it can be played back like a sad reminder of what your relationship's come to.
Best part of the story from the New Scientist article? THIS little excerpt:
"I think that approach is too much and I find it kind of creepy," says Samani. "You don't need to transmit all the parameters of a kiss. The main aim is to improve long-distance relationships. We've taken several steps to minimise the creepiness."
Two things: We'd hate to see this dude's idea of what he considers creepy and what did this thing look like BEFORE he minimized the creepiness?
We all just collectively shuddered together.
Here's Lovotic's actual company video for an earlier version of the device (in case you were wondering about that 'before' design mentioned above)…which makes us wonder how going from a cute rabbit-like design to the disembodied mouth of a Cenobite is 'minimizing the creepiness'. Again…can someone get a search warrant for this dude's basement? Or are we just not ready for that?
Twitter this