Posted by
Andrew
on May 30th, 2012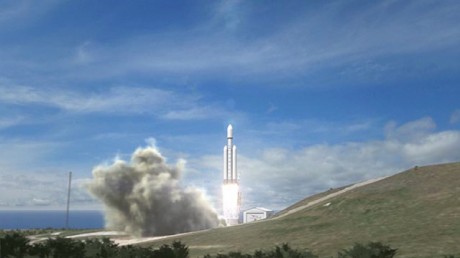 SpaceX and Intellisat, the world's largest provider of satellite services, have issued a press release announcing that Intellisat has signed up to be the first customer for SpaceX's next generation rocket, the Falcon Heavy. The most powerful rocket in the world (capable of delivering 117,000 pounds to low earth orbit) and the largest since the Saturn V rockets, the Falcon Heavy is expected to take flight next year.
The previous attempt at trying to build the world's most powerful rocket was the Soviet Union's Energia. On its first mission the rocket failed to get the payload to orbit. The second, carrying the Soviet Space Shuttle variation, the Buran, reached orbit, but actual payload capacity was a third less than the Falcon Heavy's planned capacity.
Consisting of three modified Falcon 9 cores, the Falcon Heavy involves an innovative fuel strategy that's never been attempted before in this kind of rocket. As the rocket gains altitude, the two outer cores will fuel the main core's engines, so when separation occurs, the primary stage will be fully fueled and carrying no dead-weight.
Based upon proven Falcon 9 technology, the Falcon Heavy brings about radically lower launch costs of approximately $1,000 per pound, where previous cost to low earth orbit (LEO) was around $10,000 and as much as $30,000 onboard the Space Shuttle when you factor in the total program cost.
SpaceX founder Elon Musk has said a manned lunar mission on the scale of the Apollo would be capable with two launches using the Falcon Heavy. SpaceX has also proposed using a Falcon Heavy and a modified Dragon capsule to perform an unmanned Mars mission called Red Dragon, for about $450 million – oddly enough the budget and marketing cost of the film John Carter (of Mars).
While SpaceX is preparing the Falcon Heavy, engineers and scientists at their McGregor, Texas test facility will continue developing the technology for their long range plan of making a full reusable Falcon Heavy rocket by the end of this decade. Accomplishing this could bring launch costs to under $10 per pound. For more on the impact of that, check out our article Space Boom.
Andrew Mayne is a science fiction and thriller author. His website can be found at AndrewMayneBooks.com
Twitter this