Posted by
Justin
on May 3rd, 2012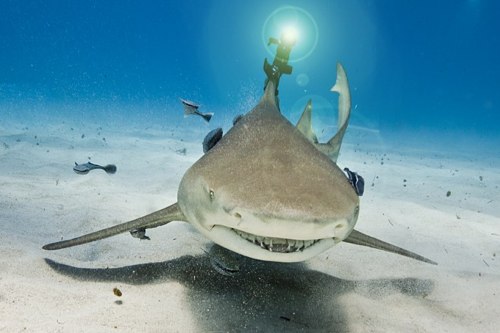 A man named Luke Tipple, marine biologist most recognizably known for his work on the Discovery Channel, attached a laser beam to a shark. It was temporary. The laser was the lowest powered model produced by Wicked Lasers, which promoted the feat. The lemon shark was unharmed.
There was even a bit of scientific value, Tipple experimented with a new kind of clap that could be used in future tracking research.
Awesome right? Not so much, for some critics who found the stunt disrespectful to the animal.
"Is there a point of it? It has to have an objective," Neil Hammerschlag, an assistant professor with the Rosenstiel School of Marine and Atmospheric Science, told Wired.

"I would say the attachment process sounds non-invasive," Hammerschlag said. "I don't think it's going to cause any damage to the shark. It's temporary. In terms of the goal, without knowing the specific scientific or educational application, it's hard to say. But if this is just to respond to a scene in the Austin Powers movie, I don't see value. You're just causing unnecessary stress on the animal. It's not respectful."
This is why we can't have anything nice. Like sharks. With frickin laser beams. On their head.
[Wired]
Twitter this