Posted by
Justin
on April 5th, 2012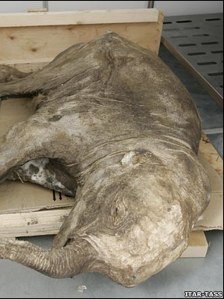 A shockingly well preserved Wooly Mammoth has been found in the far flung regions of Siberia and it could lead to the future resurrection of the species. The six-month old animal died over 10,000 years ago. It's eyes and trunk are were found preserved in the permafrost.
But back to the main question, how does this lead to us bringing back the fuzzy beasts of yore?
Some scientists hold out hope that well preserved sperm or other cells containing viable DNA could be used to resurrect the mammoth lineage.

Despite the inherent difficulties, Dr Agenbroad remains optimistic about the potential for cloning.

"When we got the Jarkov mammoth [found frozen in Taimyr, Siberia, in 1997], the geneticists told me: 'if you can get us good DNA, we'll have a baby mammoth for you in 22 months'," he told BBC News.
The beast did not initially yield a sufficient DNA sample but is being sent to Japan for further study. Meanwhile, scientists fret that further finds could be tainted by a burgeoning new black market trade. Siberian scavengers, who used to simply sell the recovered from the ice have since begun selling mammoth parts found in the permafrost online. For example, mammoth hair sells for $50 an inch.
In other news, does anyone have $50.
[BBC]
Twitter this