Posted by
Justin
on April 30th, 2012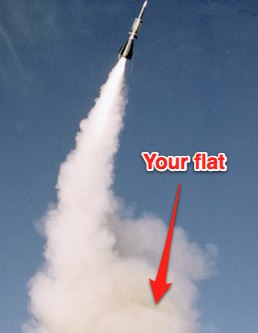 In many apartment buildings throughout big cities around the world, roof access is off limits. But only in London this summer, will it be because they might be firing a missile off of it to destroy an airborne terrorist attack.
The British Ministry of Defense is considering building surface to air missile launchers on residential buildings during the Olympic Games.
An east London estate, where 700 people live, has received leaflets saying a "Higher Velocity Missile system" could be placed on a water tower.

A spokesman said the MoD had not yet decided whether to deploy ground based air defence systems during the event.

But estate resident Brian Whelan said firing the missiles "would shower debris across the east end of London".
How else are you going to shoot down a wayward Nazi pilot who became caught in a time vortex during a bombing raid on London during World War II only be spit out in 2012?
[BBC]
Twitter this