Posted by
Justin
on April 26th, 2012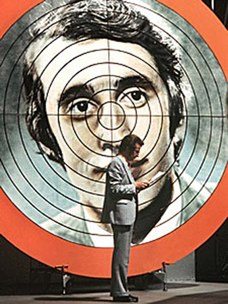 Okay, that's a deliberately provocative headline, I apologize.
But after all I've read pushing back on the popularity of the Hunger Games film and book series while citing the 1999 novel and 2000 film Battle Royale as the originator of the reality television kill show concept, it's worth mentioning that either invented the idea.
Even The Running Man, penned by a scrappy author named Richard Bachman (Stephen King's pseudonym), published in 1985 comes decades after the grand daddy of them all… Richard Sheckley's The Prize of Peril, originally written in 1958.
It follows Jim Reader, a poor young truck driver's assistant who takes on a career as a professional reality show contestant. The shows that pay the most are ones where you risk your life and where you could be forced to take the lives of other contestants.
He finds himself on the biggest of them all, The Prize of Peril.
A quick read, Peril deals with a lot of similar themes to Hunger Games (contestant as public inspiration, help from viewers, game manipulation) and just goes to show that as long as television game shows have existed, we've dreamed of killing each other on them.
Link to story at Arthur's Classic Novels
Twitter this