Posted by
Justin
on March 6th, 2012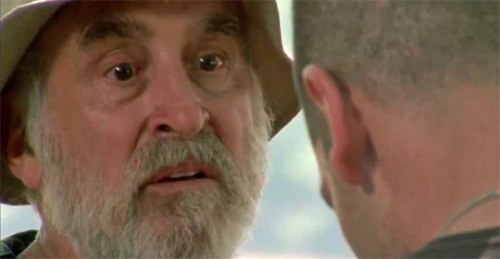 An episode of long deliberations and a shocking conclusion.
We debate the shocking end of this week's Walking Dead AFTER THE JUMP…
Why can't that kid be interesting?
I wondered aloud two weeks ago about our hostage Randal hopefully being a little smarter than he looks. After all, he saved himself last week with a cleverly timed line. Would it be too much to ask that it was premeditated on some level and not just random stuff said by a random dude at a random moment which happened to save his life?
Guess not.
He's just a dude in a barn.
Why do none of our characters ever evolve?
This episode is literally designed around Dale banging everyone's sounding board to see how they've changed. Shockingly… Everyone is exactly who they thought the were.
– Daryl is a loner. He even said it.
– Shane is a jerk but shockingly amiable to respecting Dale's right to free speech
– Andrea disagrees but secretly knows he's probably right
– Rick is indecisive to the point of negligence
There is no journey. No winding path. They say the shortest path between two points is a straight line, on The Walking Dead it's just one dot. We end where we start.
Carl's zombie dance party
Carl dials up the creep in this ep. Wandering around, getting into weird conversations, infuriating grieving mothers, stumbling upon executions and loudly voicing support.
He his big moment came when he persuaded a stationary zombie, stuck in the patented Herschel River Bed, to perform Chubby Checkers "The Twist" until he got free. This would just be nonsense… except…
Dale died from a random zombie opening up his chest
Like. Really died. Not a car flip fake out
My biggest question is… why?
What did we learn? Are any of his survivors going to change their behavior going forward.
In a world of zombies, getting eaten is like being hit by a falling tree. Don't get me wrong, I appreciate it keeping us off balance. Now we are given our biggest lesson ever that anyone can die at any time.
But… why?
It's not like he died at the hands of a marauder. That would have illustrated that he was wrong about the need to keep humanity as a priority over security. Maybe he could have tried to help Randal escape and just as they are on the outskirts of the farm Randal kills him.
It just seems pointless.
Now, let's talk for a second about the comic. Shane is a character that got to shine a lot more in the series by the benefit of not dying as early as he did in the book. We now know that Dale got the opposite treatment and I think it leaves a lot of really interesting drama on the table.
If you haven't read the book, I am only going to talk comic from here on out so you can stop reading…
…okay?
…cool?
The relationship between Dale and Andrea represented a very interesting dramatic theme for me: the evolution of love and personal security in this zombie wasteland. The social taboos that we inherently react to (May/December romance) are tossed aside because Dale and Andrea are make each other happy. This gives us an hard example as to how things have changed.
So far, we've seen very little of that in the TV show.
Also, we won't get to see Dale scream "TAINTED MEAT!" whilst making The Dale Face.
Too bad.
Twitter this