Posted by
Justin
on March 9th, 2012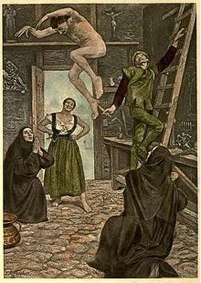 Who's excited for reams and reams of new stories that are likely gloomy, brutal and horrifying only for them to be whitewashed into super child-friendly parables and then re-darkened into adult action-adventure yarns?
Well today is your lucky day!
Over 500 new fairy tales have been discovered in Germany.
Many of the stories in Von Schonwerth's collection are found nowhere else. The tales include stories for adults as well as children. There are stories about magical animals, princesses, evil witches, farmers and more. In one of the stories a young woman escapes a witch by turning herself into a pond. The witch then drinks the pond and swallows the woman along with it. The woman then escapes by cutting herself out of the witch with a knife.
Pond changing? Witch knifing?
Get Tim Burton on the phone. I'm seeing Abigail Breslin as the young woman. Johnny Depp as a helpful frog who lives in the pond. And for the witch… who would be a good fit?
Twitter this