Posted by
Justin
on February 13th, 2012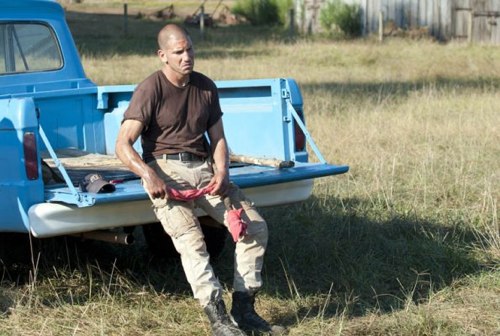 "There's no hope left, I see that now."
Herschel, our ever-optimistic farm host is now crestfallen over the events of the zombie barn party. He's now come to the conclusion that he was wrong about zombies, it's not a disease, it's a death sentence.
But he isn't really talking about walkers. No. He's talking about this show. One insanely stupid character decision piled on top of more trite plot devices and topped itself off with a TWD hallmark, repeated conversations between characters that aren't that interesting the first place.
Abandon all hope ye who click AFTER THE JUMP.Normally I try to give these things a reasoned, measured outlook. Today, I am just so filled with bile I am going to barf it up in a series of bullet points.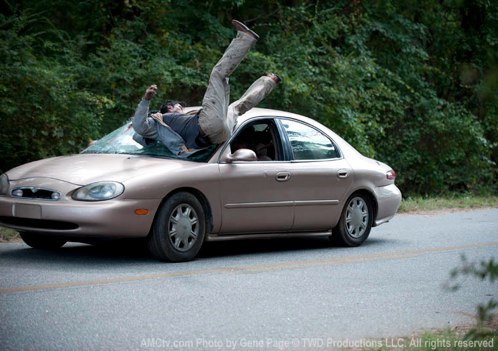 Seriously, Lori?
Let's not bury the lede. Lori's car wreck is a white flag from the writer's room. An uninteresting concept carried out in the laziest way possible.
To recap:
– Lori doesn't want Rick running off but let's him anyway. Does that sound like 80% of all the dialogue in this series to you? If it does, congratulations, you're not deaf. More on that later.
– Rick leaves.
– 15 minutes later with LITERALLY NOTHING making the situation more urgent Lori decides that someone needs to be dispatched to complete the EXACT SAME TASK Rick just left to complete.
– She asks around to see if anyone is interested, no takers.
– In a single act that completely invalidates the reasons she was arguing with Rick and (importantly) NO further plot developments she decides to leave herself and try to complete the task that Rick needed to complete.
– Reading a map while driving the writer's room decides to put a zombie in the middle of the road which leads to her flipping her sedan on the side of the road.
And now, a quick list of things that would have made this infinitely more tolerable.
– All of a sudden the fainting family members starts vomiting blood or something and Lori volunteers to get drugs from the pharmacy. Meanwhile, since both the drug store and the bar are downtown she sees it as an opportunity to corral Rick and Herschel
– Literally anything other than a zombie in the road caused her crash. Maybe someone sabotaged the tire, or a mysterious gunman started shooting at her or really anything else.
Herschel can't drink his way out of boring
One of my favorite moments of this series is Merle Dixon chained to the roof in Atlanta. He's muttering, incoherent, violent toward himself. You see a man unraveling.
Herschel decides to deal with his grief by picking up an old drinking habit. But after getting a few glasses in at the local saloon he's… pretty much the same dude. He's not throwing stuff or saying things he might regret later. He's just same old boring Herschel.
Pour me a shot of snore with a who-gives-a-f–k chaser.
Making Rick a cold-blooded gunslinger doesn't make him interesting
There is a much better show currently airing on television called Justified. In this series, our protagonist regularly gets into tense situations where he kills bad guys. This works to perfection because Timothy Olyphant exudes confidence and control. He knows when it's him or the guy in front of him, he's the one leaving the table.
Rick spends an hour and a half trying to convince an old man to go home and save his daughter. Unsuccessfully. He then engages in cagey conversation with two strangers (who may or may not be bandits) and declines their request to tag along. This conversation is so repetitive and boring that the possible bandit pulls a gun and both he and his partner get killed.
I am assuming the point of this was to give Rick some Badass Cred. But after this, since there is no real change in Rick's character leading up to it, the exchange rings hollow.
He's no Raylan Givens.
The writing is deliberately f–king with us by teasing interesting plots they refuse to engage in
Our boys from Philly proceed to rattle off a list of stories they've heard along the road to Georgia. For example: the Coast Guard is taking people out to inhabited islands and the government has commandeered a train line to Nebraska where they are building a safe area. His point being, they are all pipe dreams.
Chasing after either of those "pipe dreams" sounds more interesting than the current plan of "sit around on the farm and look at each other until a pregnant woman jack knifes her car".
The fainting goat
Why did Herschel's daughter faint? Who cares, watch this video.
More arguments we've heard a million times
Dale doesn't trust Shane and Shane isn't pleased about it!
Lori and Rick don't agree on how much Rick is sacrificing for the group!
It pains me to even type these. The good news is we are only a week away from all these greatest hits being repeated on the next episode.
BONUS: AMC deserves a hot poker in the face
Seriously? Putting the "Next Week On" teaser in the first commercial break for Kevin Smith's Pawn Stars knock off? Why don't you just put the final five minutes of the episode there too?
I don't DVR Comic Book Men so I didn't get to see what is normally among my favorite parts of every hourlong drama.
Great move guys! Also, Comic Book Men looks terrible.
Twitter this