Posted by
Justin
on January 17th, 2012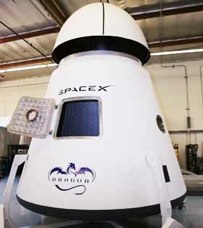 The first private craft set to dock with the International Space Station will have to wait a little longer. An unmanned capsule to be launched by WeirdThings' favorite SpaceX will not happen on February 7th as initially planned. The delay is attributed to additional preparation time.
"We believe that there are a few areas that will benefit from additional work," said Kirstin Brost Grantham, a spokeswoman for the company, also known as SpaceX.

"We will continue to test and review data. We will launch when the vehicle is ready," she said.

The flight will be the second and possibly last test flight before privately owned SpaceX begins delivering cargo to the station under a $1.6 billion NASA contract.
Considering the critical nature of such an early flight and what it means for private exploration in general, it's probably better to be safe than sorry. Still, those anxious for SpaceX to continue its evolution will have to sit tight.
[Reuters]
Twitter this