Posted by
Justin
on December 19th, 2011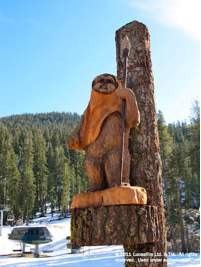 Younglings and hardened Jedis alike will have a chance to hit the slopes Star Wars style when a new 2,000 acre SW-themed snowboard park opens. The park will specialize in teaching kids as young as three the essentials of boarding. And the Force. Probably more of the former than the latter.
"Our youth programs demonstrate that kids as young as three can start snowboarding if they are provided with qualified instruction that utilizes terrain-based features and equipment designed for beginners," said Jeff Boliba, Burton's Global Resort Director. "The Burton Star Wars Experience at Sierra will give 'younglings' this tailored experience so they can be successful at snowboarding at a super young age."
We will hold off on booking our trip until we can take down an AT-AT Walker by snowboarding around their legs with a metal cable.
Twitter this