Posted by
Justin
on November 29th, 2011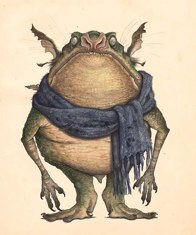 In 2003, a South African family met curious creature. His name was Rah. He was a goblin.
The little guy became a part of the family. For seven years he fit in like Harry did with the Hendersons. He even spoke two languages! What a charming little fellow.
Until one fateful day in 2009 when he made a very strange request to the matriarch of the family.
"…he woke up and said he was tired of goat meat and as such wanted human flesh."
When asked whose flesh specifically, he mentioned daughter Sithokozile.
Drawing a line in the sand between hospitality and murdering their children, the family politely declined. This did not please Rah.
"I was not going to sacrifice myself for the goblin and my mother could not do the same. Rah got angry and started beating everyone in the family. We have never head peace since he demanded that I become part of his meal," she said.

It is said that at times Rah would tie children onto a tree using jerseys and spend the whole day thrashing them with switch.
And so it came to pass, the family fled their home. Rah remains missing, quite possibly looking for a new family to befriend.
The moral of the story? If a bilingual goblin requests residence in your house, kick him out after six years.
Twitter this