Posted by
Andrew
on September 29th, 2011
Along with announcement for an Elon Musk appearance at the National Press Club, SpaceX revealed new conceptual images laying out their vision for the future of spaceflight.
One image gives us our first look at what is probably the 'Grasshopper' reusable vertical take-off and landing rocket that SpaceX sought permission from the FAA to test at their McGregor field launch facility.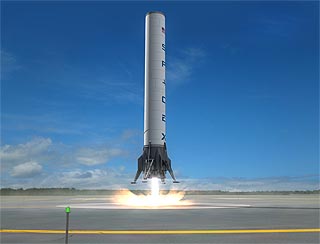 For more images, including the Dragon capsule doing a landing, check out the SpaceX page.
Twitter this