Posted by
Justin
on September 29th, 2011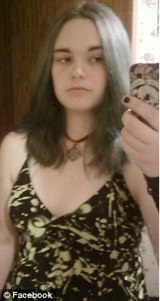 Florida Panhandle resident Stephanie Pistey is currently on trial as an accessory to the murder of a 16-year-old friend. When explaining to a local television station her role in the death, she cited a supernatural bloodlust:
Cracking a smile, she said: 'I know this is going to be crazy. But I believe I'm a vampire – part vampire and part werewolf, so it's not really a cult, it's more just like my personality.'
Pistey's fiancee is accused of murdering 16-year-old Jacob Hendershot.
The Daily Mail reports that Pistey posted the following on her Facebook page days after the alleged murder:
On August 20, days after changing her relationship status to 'engaged,' she posted: 'Yea were merryied and hes going to die hes the one that killed jacob hendershot well i let him i wanted the blood.'
Pistey has since claimed her account was hacked.
Twitter this