Posted by
Justin
on May 27th, 2011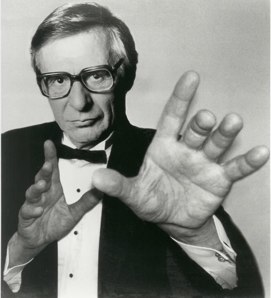 Here is world famous mentalist The Amazing Kreskin on why he wasn't sweating all the Rapture talk by Harold Camping one week ago:
"I immediately checked my predictions for this year, and finding nothing regarding such, went on with my life.

"Of course, if we are to respect for even a fleeting second the pronouncement of this holy man and his conviction, we certainly would expect that he turned over every single solitary penny of his possessions to a charity by the day before the end of the world. Not doing that would label his pronouncements as phony as a $3 bill.

"Of course this holds true as well for all the individuals who were 'passionately certain' that the end of the world was definitely coming. Unless they relinquished all of their life savings, the question becomes, 'Why haven't they entered politics, where lying through one's teeth is clearly one of the basic skills of the profession?'"
Someone is predicting the end of the world. Let me open by Trapper Keeper of yearly predictions. Hmmmm…. Hines Ward wins Dancing With The Stars, The Hangover II is boring, Sarah Palin announces she is running for president. Nope, nothing in here about the ascension of all God's children into heaven. Case closed.
Thanks to Dylan for passing this along.
Twitter this