Posted by
Justin
on March 22nd, 2011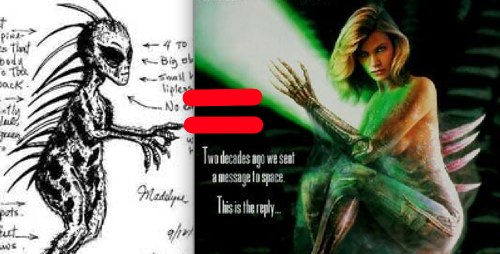 Did the Chupacabra mythos start as fan art for the 1995 Sci Fi thriller Species?
That is the assertion of Benjamin Radford who tracked the legend to it's roots on the island protectorate of Puerto Rico. According to new research, all Chupacabra references can be traced back to a newspaper article in the second week of August in 1995. The alleged eye witness Madelyne Tolentino who provided the illustration depicted a lanky bobble headed creature with spikes jutting from the spine area.
Radford's theory is that the creature might have been inspired by the 1995 erotic, science fiction thriller Species. In that film, a shape-shifting alien Natasha Henstridge attempts to mate with a human male. Her true form most notably bares resemblance to Tolentino's drawing in the spikes and boney hands.
Which might be no coincidence, since according to Radford, Tolentino admits that she saw the film before penning her illustration and confesses that it might have inspired her final product. Species was released in theaters on July 7th, only a month and a half before the original newspaper report.
Twitter this