Posted by
Justin
on November 9th, 2010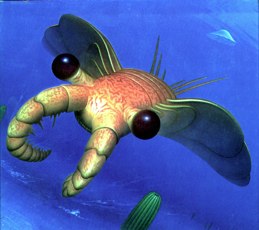 He once prowled the primordial sea, ruling all he surveyed. Legend would speak of this carnivorous shrimp in hushed, reverential tones for it was truly Earth's first predator.
Until we found out yesterday that it was just like any other stupid shrimp and wasn't carnivorous at all.
A new 3-D modeling of the mouth parts of the Anomalocaris, along with evidence that these parts were not hard like teeth, but flexible, shows that the famed predator could not have been munching on the hard shells of trilobites and other such creatures of the early seas.
Just for that, I'm headed to Red Lobster. Endless Shrimp is back and I'm gonna eat 75 of of this dude's descendants.
[Science Daily via reader Dan Wheeler]
Twitter this