Posted by
Justin
on October 12th, 2010
UPDATE: We are sold out! Thanks to everyone for responding so quickly. We hope you guys like it!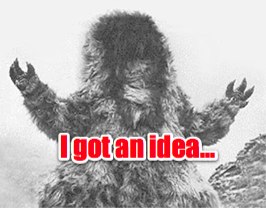 Here at Weird Things we pride ourselves on thinking outside the box. If we can find room in our hearts for yetis, UFOs, self-driving cars and zombies than why not a new model for podcast advertising?
On this week's podcast we are going to sell three ad slots. Each will cost $20. These spots are for you, our readers and listeners. We will plug your Twitter, Facebook or blog in the form of an original live read hand-constructed by me, Justin Robert Young. It will not be super long but I will attempt to make it funny. Emphasis on attempt.
This is not a donation. We want to give you something for your cash beyond a thank you. We'd hope at least a few of those listening to our Top Ten in iTunes' Science category podcast might want to follow another likeminded person. Either way, we guarantee you'll get one new friend or follower, us.
We hope this experiment does well enough that we can repeat it. You can make it happen.
If you are interested, we'll accept PayPal or all major credit cards.
Email JustinRobertYoung@Gmail.com. The first three to pay will get the inaugural spots on the podcast released this week.
Twitter this