Posted by
Justin
on October 6th, 2010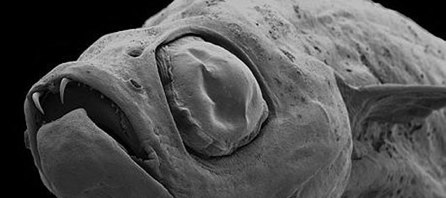 The kids love vampires, the kids love pet fish. Is it any wonder that the World Wildlife Foundation has found a Dracula Fish along with 144 other insanely weird animals surrounding Southeast Asia' Mekong River in 2009.
Here are a few of the others:
Cuter by far is the lipstick gecko, barely big enough to perch on a finger, with a dark barred pattern across its lips suggestive of cosmetics.

Other featured creatures include a fangless snake, a frog that chirps like a cricket, and a pitcher plant that traps insects and grows to a height of over seven meters.

"This rate of discovery is simply staggering in modern times," said Stuart Chapman, Conservation Director of WWF Greater Mekong, in a statement.
By random happenstance, we have some more Weird Animals coming your way today. Hold on to your butts.
[Reuters]
Twitter this