Posted by
Justin
on August 27th, 2010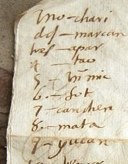 A letter found in the ruins of a collapsed Spanish colonial church in Peru could be the key to a heretofore undiscovered language. Awesome.
"Even though [the letter] doesn't tell us a whole lot, it does tell us about a language that is very different from anything we've ever known—and it suggests that there may be a lot more out there," said project leader Jeffrey Quilter, an archaeologist at Harvard's Peabody Museum of Archaeology and Ethnology.
The letter was preserved because the caved in structure protected the relatively unharmed library and offices of the facility.
[Nat Geo]

Twitter this