Posted by
Justin
on August 31st, 2010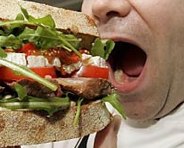 The oldest known shaman died and was buried in a Northern Israeli cave. Everyone thought it would be a good idea to stuff their faces with food in her memory. Because of this, you ate a ham plate at your Uncle Barry's wake.
Life is strange.
A study published Monday in the journal Proceedings of the National Academy of Sciences by Grosman and Natalie Munro, a zooarchaeologist at the University of Connecticut, reveals that the shaman's burial feast was just one chapter in the intense ritual life of the Natufians, the first known people on Earth to give up nomadic living and settle in villages.
The other traditions? Carried the dead bodies along with the party supplies up the mountains to their elevated resting places. Who's got two thumbs and is pretty psyched we dropped that one?
[Nat Geo]
Twitter this