Posted by
Justin
on July 22nd, 2010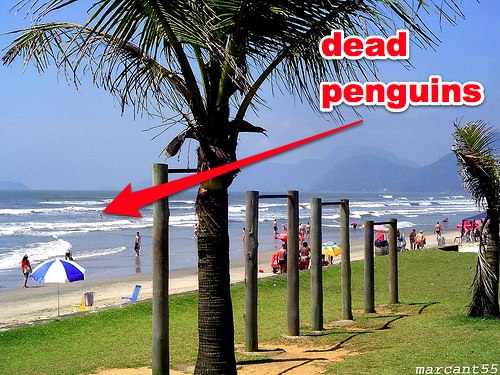 Maybe it's the summer time, but weird beach stories are just dominating the news lately. Yesterday we had a couple of Russian jackasses strapping a mule to a parachute for publicity and today we get news that 500 penguins washed ashore in Brazil, dead as Dillinger.
About 500 of the black-and-white birds have been found just in the last 10 days on Peruibe, Praia Grande and Itanhaem beaches in Sao Paulo state, said Thiago do Nascimento, a biologist at the Peruibe Aquarium.

Most were Magellan penguins migrating north from Argentina, Chile and the Falkland Islands in search of food in warmer waters.

Many are not finding it: Autopsies done on several birds revealed their stomachs were entirely empty — indicating they likely starved to death, Nascimento said.
Don't you hate it when you leave the house to get something to eat and nothing you like is open? Thanks to Mike Beam for sending this in.
[MSNBC]
Twitter this