Posted by
Justin
on June 14th, 2010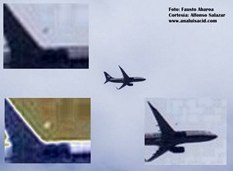 The premiere site for paranormal sightings in Latin America, Inexplicata, prints this tale from a Mexican pilot. Word around the hangers is a white arrowhead has been eye balled a few times by different flight crews.
"Dear Ana Luisa – My best regards to you. This photograph was taken by Fausto Abaroa on May 21st as an Aeromexico 737-800 approached Mexico City along the San Mateo air corridor. The same image shows a black flying object that dangerously escorts the passenger jet.

"It should be noted that the allowed distance between one airliner and another is one mile (1209 meters) as per SVRM Regulations for passenger aircraft navigation in Mexican airspace.
Read the original post for the full letter. Could it be an unregistered aircraft? Military prototype? UFO?
Twitter this