Posted by
Justin
on June 17th, 2010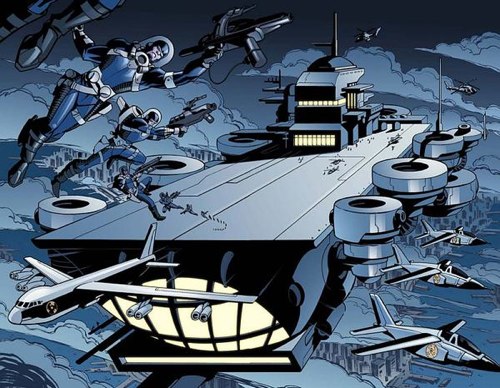 All the best tech comes from Sci Fi and comic books, fact.
The United States Army has ordered a huge hybrid airship longer than a football field to watch over battlefields in Afghanistan by the end of 2011, according to the airship's builder Northrop Grumman Corporation.

The company has received a $517 million Army contract to build up to three of the huge military airships, called the Long Endurance Multi-Intelligence Vehicles (LEMV). Such airships would serve as surveillance stations at 20,000 feet (6,096 meters) above sea level and could stay on watch for as long as three weeks at a time.

A LEMV would also have the capability to carry a 2,500-pound (1,113 kg) payload, and still zip along at 92 mph (148 kph) if necessary. The 302-foot (92-meter) airship would typically have a cruising speed of just 34 mph (54.7 kph).
How else are we supposed to launch our Howling Commandos from an airborne position?
[SPACE]
Twitter this