Posted by
Justin
on June 22nd, 2010
UPDATED: with test footage thanks to @LHymas on Twitter.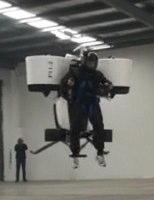 Aw hell yeah.
The Jetpack achieves with 30 minutes of flight time and is fueled by regular premium gasoline, though you will undoubtedly earn some disbelieving stares at the petrol station. Since it has been built according to ultralight regulations no FAA recognized pilot's license is required to fly one in the U.S., though this will depend on a country's specific requirements. However, despite being significantly less complex than a helicopter to fly as pitch and roll are controlled by one hand, thrust and yaw by the other, Martin Aircraft won't let anyone take receipt of their jetpack before completing their specially-developed Martin Aircraft Company approved training program. The pilot must also weigh between 140-240 lbs.
It'll cost you about 90k to get into the jet pack lifestyle and a waiting list has already formed.
[Actual Test Footage Of Jet Pack!]
Twitter this