Posted by
Justin
on May 18th, 2010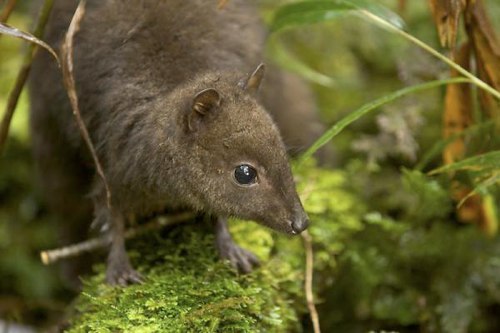 A team of scientists visited a lush wilderness once dubbed "The Lost World" and guess what they found? No, not a disappointing sequel starring Vince Vaughn for no reason… three species that might be totally new to science!
The array of new species, which include several new mammals, a reptile, an amphibian, no fewer than twelve insects, and the remarkable discovery of a new bird, was found by a collaborative team of international and Indonesian scientists participating in Conservation International's Rapid Assessment Program (RAP), which explored Indonesia's remote Foja Mountains on the island of New Guinea in late 2008.

RAP surveys, which typically last three to four weeks, bring together teams of field biologists to conduct rapid, first-cut assessments of the biological value of selected areas. The biologists on this expedition endured torrential rain storms and life-threatening flash floods as they tracked species from the low foothills at Kwerba village to the top of the range at 2,200 meters (7,200 feet), reporting notable discoveries that included a bizarre spike-nosed tree frog; an oversized, but notably tame, woolly rat; a gargoyle-like, bent-toed gecko with yellow eyes; an imperial pigeon; and a tiny forest wallaby, the smallest member of the kangaroo family documented in the world.
Above is a picture of the Smallest Wallaby, which sounds like a children's book. What's the over/under on when it's spotted peaking out of Miley Cyrus' purse on a red carpet?
Twitter this